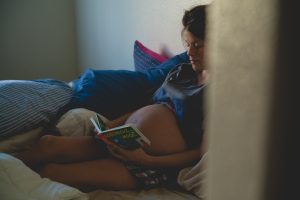 Are you faced with another unexpected pregnancy and know you don't want another abortion? You have options: adoption and parenting. We know it can be scary to face a major pregnancy decision again, but you are not alone.
Find the support you need today by talking with our caring and non-judgemental team at Hope House Women's Clinic. We're here to listen to your unique situation and offer the best free resources and services for you.
Abortion Is Not Your Only Option
Do you feel overwhelmed by the voices around you pressuring you into an abortion? This could be coming from friends, family, or your partner. Remember that this is your decision, and no one can force you into an abortion.
If your partner is abusive in any way, you deserve confidential support. Help is available 24/7 from the National Domestic Violence Hotline. Advocates can connect you to your needed resources. If you are in immediate danger, call 911.
Your Other Options
It can be easy to fall prey to the pressures around you, but you have two other options to explore when it comes to an unexpected pregnancy:
1. Adoption
If parenting is not an option for you, and you don't want another abortion, adoption could be the right choice. Choose from open, closed, or semi-open adoption based on what kind of relationship you desire to have with your child and the adoptive family.
Talk to us today to learn more about the adoption plan that suits your lifestyle and to discuss if it's a fit for you.
2. Parenting
Anyone facing an unexpected pregnancy has reservations about parenting. It seems like a hard choice, but you are not alone if you choose to parent.
With the help and support of others, parenting is possible and rewarding. The rewards far outweigh the challenges that come with parenting for the first time. We at Hope House Women's Clinic offer the free parenting resources and support you need to parent well. Talk to us today to see what's available to you.
Schedule a Free Appointment
Talk to us safely and confidentially to learn more about adoption and parenting, and we can help you decide what your best next step is. Once you've confirmed your pregnancy with our free lab-quality pregnancy testing and ultrasound with a positive result, we can sit down with you to discuss a plan and look through all your options.
Contact us to schedule a free appointment to get started. You can do this.